SERVICE MENU With More Details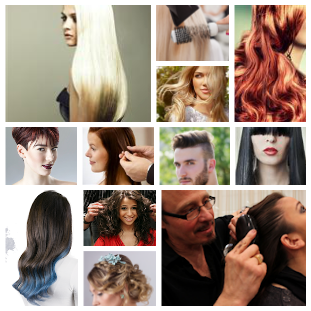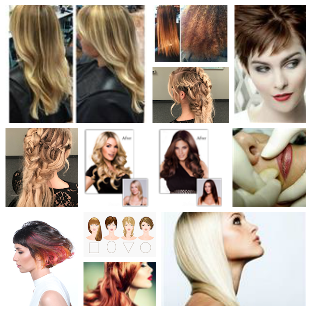 Extensions
Easihair Pro Application
We understand that tape in hair extensions should be comfortable, undetectable, and natural. They are made with 100% Cuticle Intact Remy Human Hair, easiLengths that are suitable for women with thin to medium texture/density. EasiLengths can add length, volume and chemical-free color without any damage to your natural hair and can be applied in 60 minutes or less. They are easy to apply and you will be able to maintain and style them as you would be your own hair.
Hair Talk Hot Heads Application
Hair Talk Hot Heads is human hair, that are adhesive weft extensions applied without the need for tools or heat. Simple, fast and extraordinary! They are uniquely designed to lay completely seamless and are undetectable in the hair. This product has amazing quality remy with cuticle allowing replacement up to 8 - 10 weeks of wear from each application. Hair Talk Hot Heads change the way your hair looks and how you feel. Order this product with deposit to suit your color palette i.e., natural color, add highlights, low lights and bright fantasy like pastels. This type of extensions are available in Ombre and Color Melts.
Haircolor – Special Effects Haircolor & Contrasting
Flamboyage
Flamboyage is a gorgeous exciting COLOR PAINTING technique. Flamboyage is a combination of Ombre and Balayage. It is accomplished by using Flamboyage strips, resulting in a brightened yet natural, lively look.
Balayage
Balayage is a French word meaning to sweep or to paint. It allows for a sun-kissed natural looking hair color, similar to what nature gives us as children, with softer and less noticeable regrowth lines. The principal idea being less is more when creating soft, natural looks.
Ombre
French word meaning shadow or shade, colors graduating from dark to light seen in hair, clothing, and art!
Creative Color
Anything from Vivids to Pastels

Lightening with Olaplex bonding
Bleach lightening then toned
Men's Custom Color
Gray coverage or slight blending tones
Highlights
An enhancing highlighting, that creates a contrast of brightening color effect throughout the hair
Lowlights
A lowlight that creates depth and contrast throughout the hair
Base Color
The process of using a dye or tint to change the color of your hair or to cover the grey. All over permanent or semi-permanent color.
Color and Full Highlight
All over permanent or semi-permanent color with highlights
Color and Highlights
All over permanent or semi-permanent color with partial highlights covering approximately 1/2 of the head
Color Correction
Corrective service to fix hair color tone
Dual Senses - Color lock Serums
Proven prolonged color retention up to 22* washes! Hair Type: Normal or Fine color-treated hair
Smoothing Treatments
Keratin Smoothing
The best option for DE frizzing and smoothing many textures of hair from curly to relaxed. Smooth, softens, and gets frizz out for up to 3 months
Keratin Express
The best option for DE frizzing soften and getting frizz out for up to 6 weeks
Brazilian Blowout
Brazilian Blowout improves the condition of the hair by creating a protective protein layer around the hair shaft to eliminate frizz and smooth the cuticle
Haircuts & Shapes
Women's, Men's and Child's Haircuts
A customized haircut designed special for you to fit your individual style and preferences
Conditioning Treatment
A formula that is designed to restore proteins and moisture in the hair. Often the client will wear a cap and be placed under a dryer for 10-20 minutes to increase the speed of penetration and hydration into the hair shaft.
Braids, Special Occasions & Styling
Women's Blow-Dry Styling
Professional styling and finishing service
Brides Up or up/down-Styling
An elegant style where the hair is pulled up, and away from the neck, or not. Up down is also very popular!
Braids
3 strand, 4 strand , Rope, Fishtail, French, Dutch, Waterfall, Voluminous, & Bohemian, we do it all!
Curl Texture
Beachwave or Grunge
A carefree texture that embodies summer hair creating loose, messy, unstructured waves
Perm
The process of creating curls and waves in your hair to enhance the body and volume in your style
Body Waves
For hair that is limp and has no body
Spiral
Ideal for long spiral styles
Treatments
Palm Springs Pre-Shampoo Mask Treatment
If your hair is worn out from heat-styling, coloring or chemical processing, send it on a weekly getaway to an oasis of repair with PALM SPRINGS Treatment Mask. A soothing cocktail of oils, butters and extracts deep conditions, strengthens and adds tons of shine to help hair look and feel well-rested and ready to go back to the grind. Palm Springs Treatment Mask revitalizes hair that nourishes and replenishes hair before shampooing.
Good for: Damaged or dull hair that needs a bit of a recharge. Will soften and give shine to all hair.
Fragrance: RELATIVE PARADISE - A bright, earthy composition. Sicilian Lemon, Tangerine, Eucalyptus, Green Tea, Tree Moss, Crisp Amber

Apply to dry or damp hair and leave on for 10 minutes, then shampoo. Can also be used after shampooing, like a traditional hair mask, or as an extra hydrating co-wash.
Analog Cleansing Foam Conditioner
Light as air? Sign us up for anything that helps fight the evil forces of gravity. ANALOG is the only step you need to weightlessly soften and condition, no matter what kind of hair you've got.
Good for: Color-treated, under hydrated or coarse hair.
Fragrance: LOVE BITE - A sophisticated and vibrant scent. Orange, Rhubarb, Cardamom, Juicy Fig, Guava, Blonde Woods, Amber
This multitasking cleansing and hydrating hair without weighing it down. It's formulated with argan oil to nourish and soften hair, horsetail extract to strengthen and smooth, and antioxidant-rich green tea to protect strands and add shine. It's gentle enough to suit all hair types, especially coarse, dry, or color-treated hair.

Work a small amount of conditioner between your palms and massage it through your hair from roots to ends. Rinse clean and repeat with warm water, then style as usual.
Hard Water Wellness Hair Remedy
When horrendous hard water gives your hair a truly tough time, this weekly wellness hair remedy restores the life of weighed down locks for body, bounce and sheer brilliance.
Color Prepare Wellness Hair Remedy
Eco-chic wellness remedy primes hair for color perfection while drawing out all color-blocking elements to ensure optimal coverage and extended color vibrancy.
Malibu Blondes® Wellness Remedy
Total vegan celebrity must-have dramatically intensifies color brilliance for natural, bleached and highlighted blondes. Takes blondes from ashy and brassy to bold and beautiful. Unleash your inner blonde goddess.
Swimmers Wellness Remedy
Ditch damage and discoloration with this must-have tune-up tool for swimmers' hair that instantly kicks crunchy, gummy, lifeless locks into tip top shape to reveal the ultimate in softness, swing and shine.
Quick Fix Wellness Remedy
Need a color do-over? This easy-fix wellness hair remedy is your first step to color success as it helps remove undesirable color and color-blockers while instantly hydrating and restoring the manageability and shine of your tresses.
Scalp Therapy Wellness Remedy
The ultimate flake fighter that naturally soothes and satisfies while instantly delivering vital nutrients to help relieve symptoms associated with dry scalp.
Curl Partner Wellness Remedy
Ensure the success of your service with this preparatory perm treatment that effectively removes pesky perm solution blockers, including medication and hard water minerals that hinder texturizing services and cramp your style.
Relaxer Treatment
Rest assured the integrity of your hair will be preserved with this therapeutic blend of botanicals and antioxidants to nurture and nourish your dried-out scalp and banish breakage.
Olaplex

The three-step salon system is changing the game with a lineup that both prevents breakage during the coloring process and "glues" back together the broken bonds that happen as a result of coloring. That system is called Olaplex.

If you're part of the bleach brigade, then you probably know all about Olaplex — the hair-colorist community has been singing its praises since it first arrived on the market. Colorists feel limited as to what they can actually do to their clients' hair. The clients come to the salon holding pictures of blond celebs and, due to the potential of severe damage and trauma to the hair shaft. Olaplex, allows our specialist to color the hair much lighter than they safely would normally.

No. 1 is mixed into lightener, or hair color, and applied to the hair. What it does, is repair the disulfide bonds that are separated as a result of chemical treatments or heat styling. Those bonds are separated and momentarily broken to achieve a different color or hair texture. Numbers 1, 2, and 3 all rebuild those bonds."

No. 2, needed to complete the coloring process. After the color has been applied our specialists will take you to the bowl and rinse the color out of your hair then No. 2 is applied to towel dried hair and left on for a minimum of 10 minutes. Then it's back for a rinse, shampoo, and conditioning. A retail-friendly version of No. 2 is the No.3 that allows consumers to protect their hair from themselves (curling & flat irons), as well as rebuild broken disulfide bonds in the days prior to visiting their colorist. No. 2 is a 15% concentrate whereas,

No. 3 is 12.5% and is no way, shape, or form a conditioning treatment. It's reparative — it rebuilds broken hair and it will reconnect those [broken disulfide] bonds.

Olaplex process will also benefit those who have damage due to other chemical treatments (relaxing, keratin, straightening) and from wear and tear from styling tools. Olaplex works for everyone. That means it will help reduce frizz, dullness, and even make curls more defined.